---
Sunday, October 05, 2014
Israel, Palestine and Jordan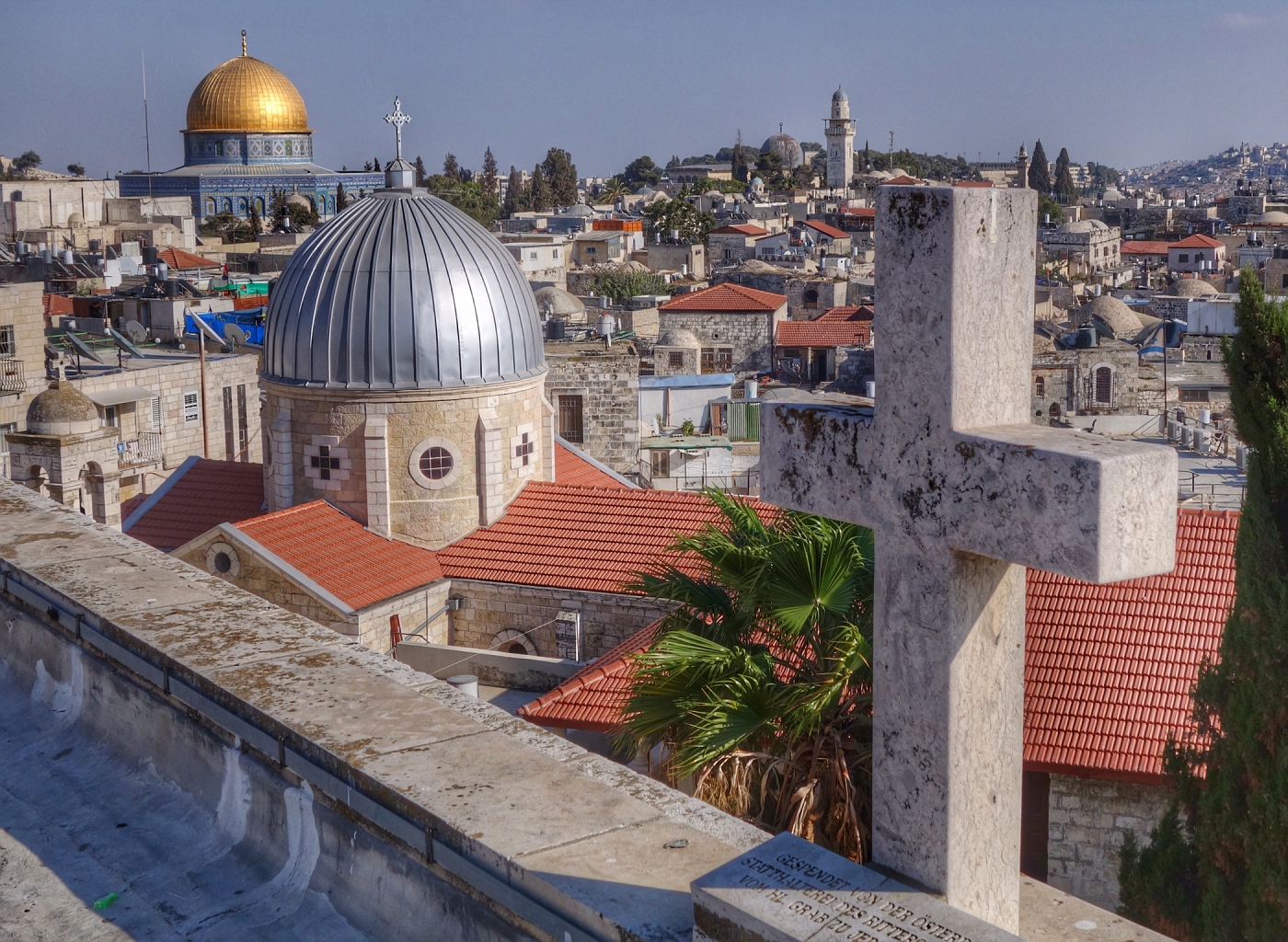 Trekking Across The Holy Land of Judaism, Christianity and Islam
Check out
all the photos
!
I'm not sure where to start describing our trip to Israel and Jordan. It is by far different then any we have ever taken. I have a lot to say because there is a lot going on over there, we experienced a lot and definitely learned a lot. I did realize quickly when we got home and people started asking about our trip that if I mentioned things like Iron Dome, separation wall, settlements, Palestine, etc. that people would get a glazed look in their eyes and ask "What is the Iron Dome?" They can't relate. If we had just come back from the beach or a safari, they can comprehend and understand that. But not this. So for the most part we have not shared our trip with people. So I will be sharing it here.
Preface / Disclaimer
I know I will make some people angry with my comments regarding Israel vs Palestine. But until you're there, and talk to the locals, and see things in person, it's hard to get a good understanding of what it's really like. We all know news is skewed and doesn't report things correctly and there is different perspectives in the US but hopefully with some of the things we learned we can describe and explain better the situation there. I do know I came home more educated, worldly and more informed of religions, the tension that is involved, as well as the fanaticism that goes with it. Of course, if I don't piss off someone with remarks about the political situation there then I'm sure I'll piss off someone with remarks about religion.
By the way, I found out my name in Hebrew means "mine". Troy says that it explained a lot. I find myself using this fact often in the near and far future.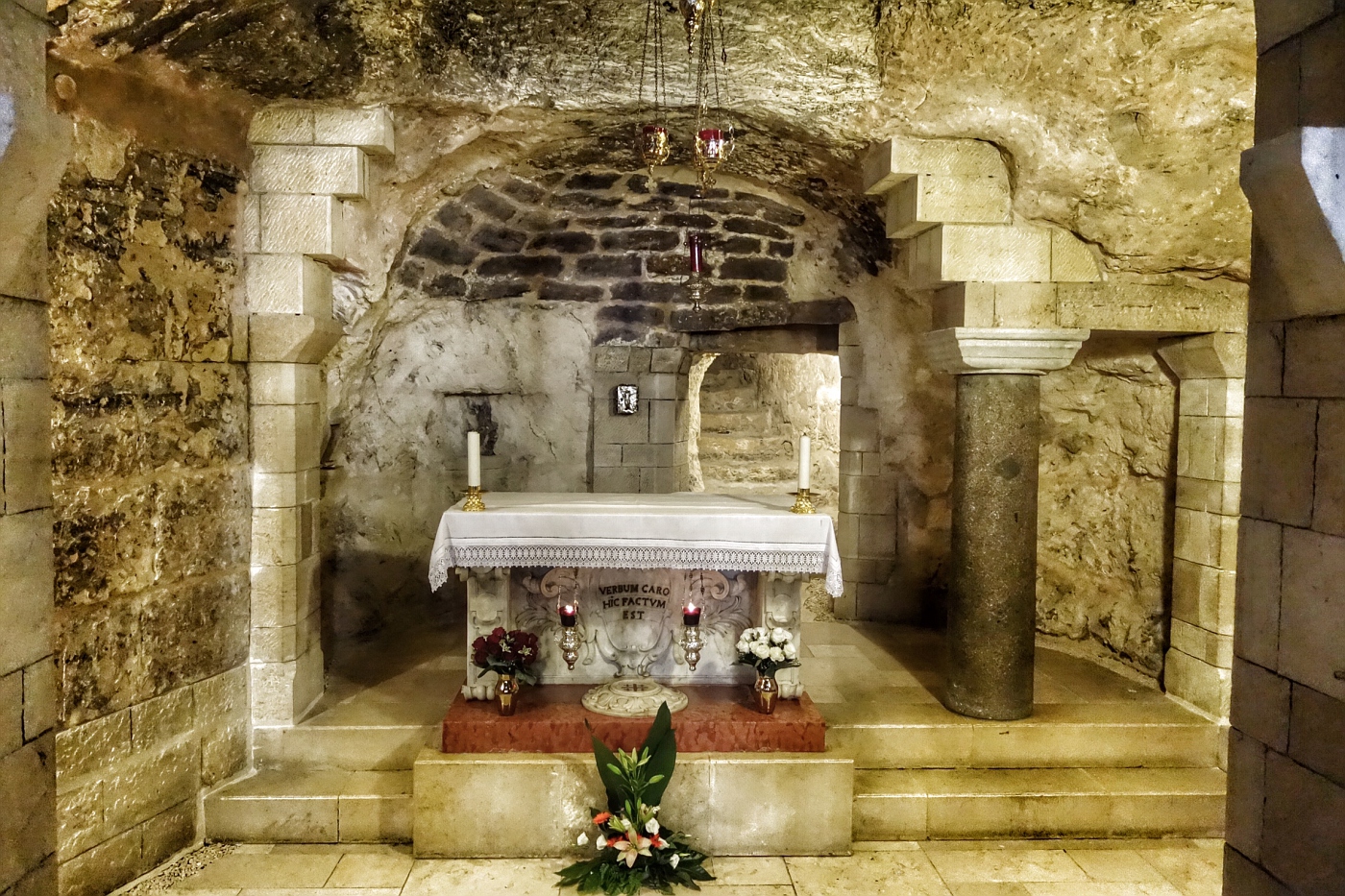 Mary's Home / Cave
I know a lot of our friends and family seriously questioned why we were going to Israel. Not just because of the recent war a couple weeks before we left, but because we are as non-religious as one can get. But we felt we didn't need to be religious to appreciate the country, the people, the history, and of course the political situation. In fact we felt we could appreciate Israel more than someone who is so involved in their own religion that they feel all other religions are wrong. We looked at Israel as a historical place. Whether or not you believe in Jesus as the Son of God performed miracles, ascended to Heaven then was resurrected - he was at least a man who was born, lived and died. Billions of people around the world believe in him as the Son of God, worship him, devote their life to him, and even commit crimes in his name (yes, I know, Islam does the same and so does Judaism). The fact that billions of people believe in a man that lived and was raised in this country, and we were able to visit all these places associated with Jesus, is kind of mind boggling.
Even World Travelers Make Mistakes
But let's start out on a completely different note... before we even left Austin I managed to screw up Troy's plane ticket by misspelling his last name. We both looked at his ticket a dozen times before we left and neither of us caught it. It was the check-in guy at the Austin airport that caught it. Troy and I both thought "Of all the airlines to have this happen with. El Al - Israel's and one of the world's most secure airline"! Seriously?? American Airlines made a big deal about it. Making faces and noises. The ticketing lady gave Troy a gate pass to get through security then told him to throw that away once he was past security. I guarantee she was not supposed to do that - we found out later that apparently this is illegal. She said we would have to figure out the New York-Tel Aviv leg when we got to NY.
Anyway, we get to New York and go to the ticketing counter and I'm nervous and literally shaking and feeling as if we did something wrong and we are in trouble. But in reality I'm thinking, "Is our trip seriously in jeopardy because of one missing letter?" Guess what? El Al couldn't have cared less. They were more concerned if we had bomb making residue on or bags and how much they weighed!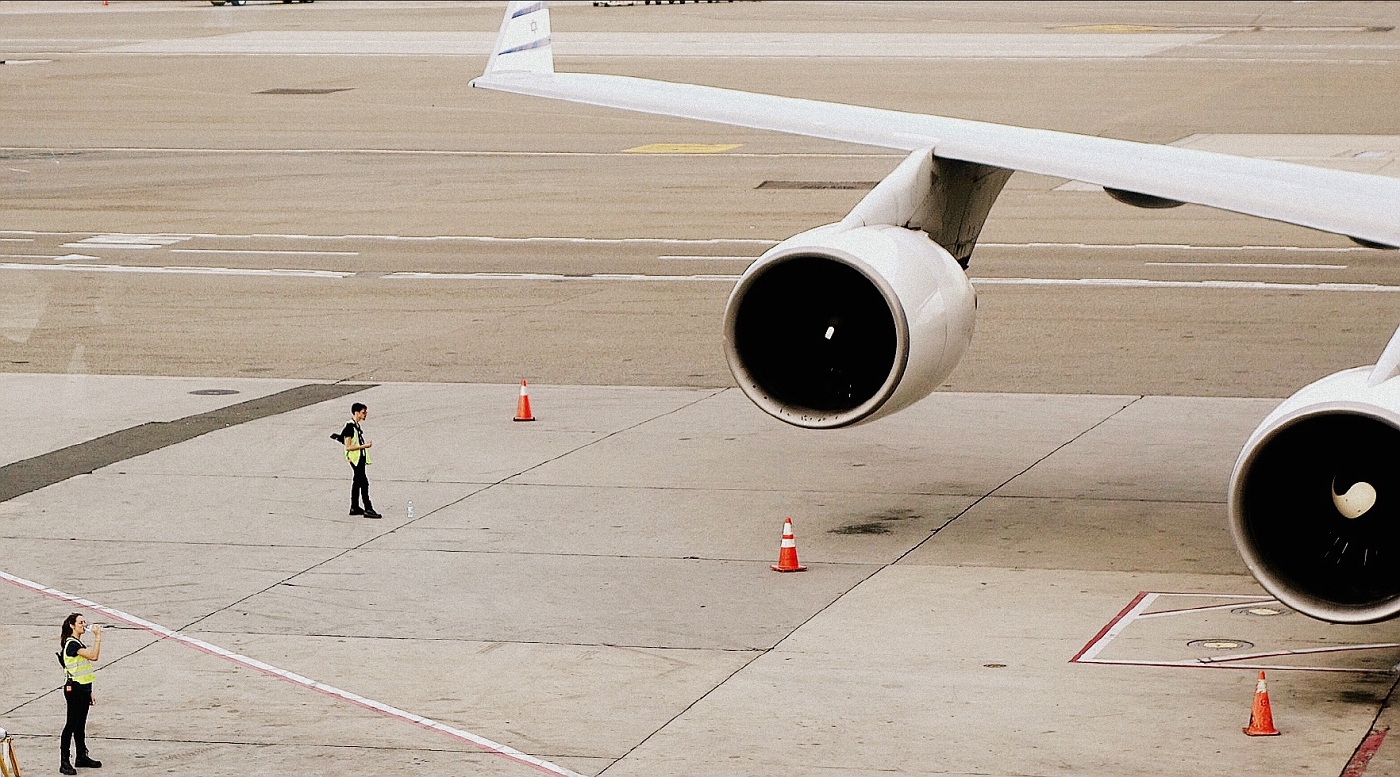 Speaking of El Al's security for the plane...As we're waiting to board, the plane on the tarmac was surrounded by at least 4 security personnel. If a worker was on the plane, walked away and then came back, they were thoroughly wanded with a metal detector. Doesn't matter who it was, where they went. Then each palette of cargo was inspected before loading. We've seen a lot of planes getting ready for departure in all our travels but have never seen this level of security.
Tel Aviv to Jerusalem

Our first day and a half was spent in Tel Aviv which was just a big city but actually not as big as I expected. Population is around 400,000. Eating dinner there the first night was our first taste of how the locals felt about the past war that just ended 2 weeks prior. (Talk about timing with the last cease fire that actually held our vacation!) Some of the locals (Israeli's of course) referred to it as "a mess". Another guy compared it this way: You know when you go to a friends house and their kids are behaving really bad and they say, "My kids are not normally like this!", that was how he referred to the Palestinians.
Anyway, we rented a car then took off up the coast of the Mediterranean Sea. Probably the best $50 we spent was on a off-line GPS app. There was no way with the map I had was I going to be able to navigate us around and out of Tel Aviv and eventually into Jerusalem.

Up the coast we headed and stopped in a few, for lack of better words, very large and crowded towns. One was boring but the other one was cool because it had an old walled village that is one of the oldest continuously inhabited areas since around 3000BC. The only frustrating thing about the village was it was a maze and we couldn't find our way out.
As we continued our drive, we came across an Israeli tank being carried on a trailer. Our initial thought was "Why is this way over here?" Then we realized we were only 40km from the Syrian border. Every once in a while during this trip we came across subtle reminders that we were still in a very volatile area of the world.
Next Stop, Nazareth...
A whole lot of religious stuff happened here.
Italy all over again
when we went there a few years ago with Troy's family and got our car stuck in a small village. We clearly knew we were in the wrong place, but the funny thing was when we got to a point where we couldn't go any further we were a 2 minute walk to our hotel. We just couldn't park there. It was at this point we realized our miscommunication. So with Troys incredible driving ability he was able to get us out of the mess and back on a normal road. It took us another 45 minutes to get to where we were supposed to park and then we still had to walk 15 minutes to get to or hotel – even though prior we were just a 2 minute walk away!
One of the things I love about these old cities is where we stay. In Nazareth we stayed in a 500 year old "house" that is more of a mansion. The lady who runs it is the granddaughter of the man who owned it when it was a family home. We got the attic room and she told us she remembers when she was little her and her sisters used to play in that room. The bad thing about an old house is even though the walls are thick the windows are thin and don't close well. So we were all too aware of the music next door from a Muslim wedding that went on all night. And they like their music loud!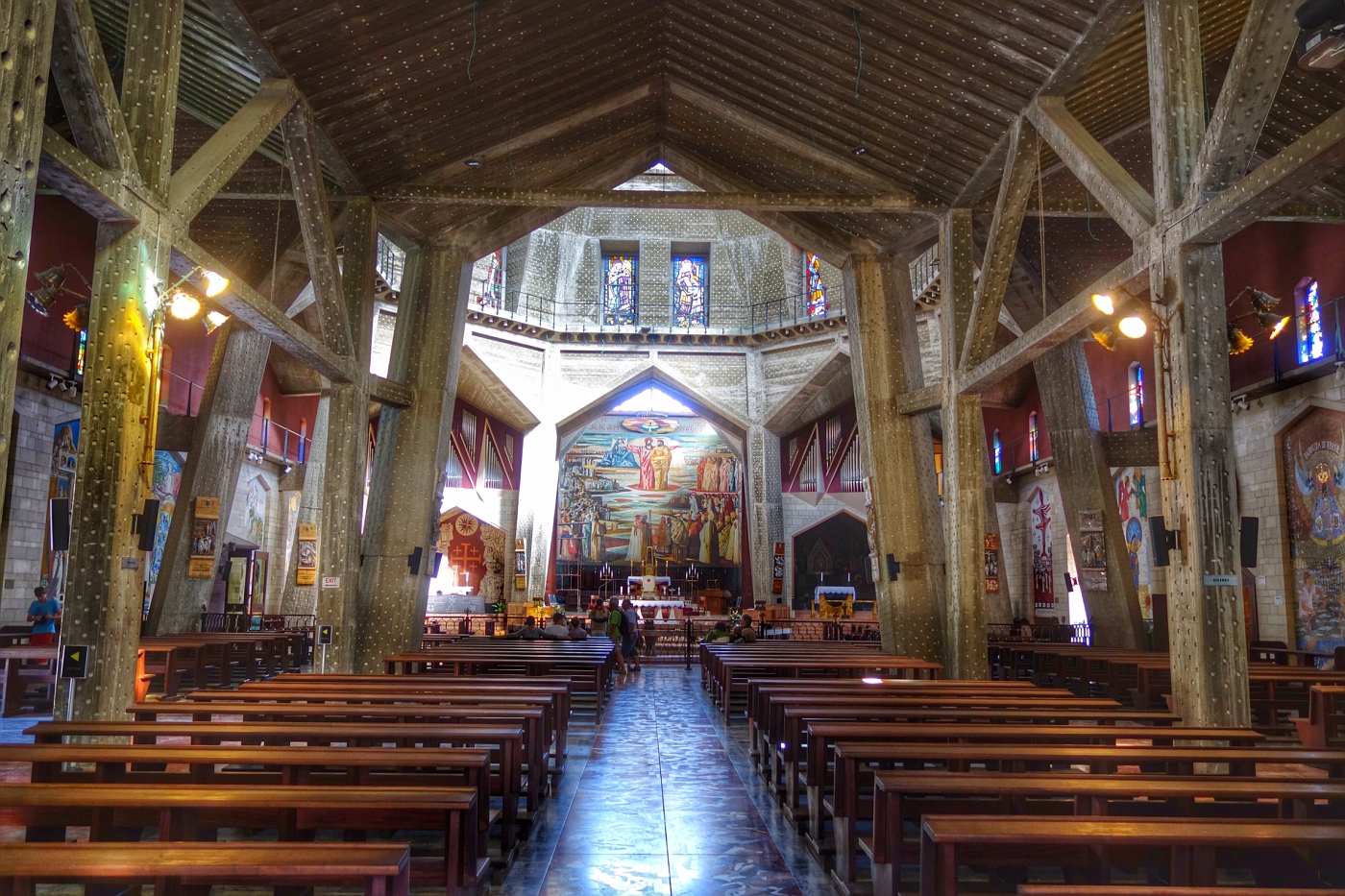 Basilica of the Annunciation
Nazareth is predominately made up of Arab citizens of Israel and it was in this city that was our first encounter of how the different religions compete. As the Muslims have their call to prayer at sundown, Christian church bells are clanging at the same time. By the way if you've never heard
a Muslim call to prayer
, it's quite extraordinary. It's not recorded, it's someone actually doing the call, or more accurately singing the call. Sometimes it will be an old man who sounds horrible, other times it will be a young boy.
Anyway, like I said before a lot of religious things happened here: This is where Jesus first says he is the Son of God; where Mary is told about the annunciation (that she will give birth to the Son of God); the remains of Mary's home is here; this is the childhood home of Jesus; and is the center for Christian pilgrimages. Honestly I'm not going to say much about this because if you are religious then there is nothing about Nazareth that I am going to say that you don't already know, and if you're not religious, you probably won't be much interested. I got better tales to tell!
Jerusalem, Judaism and the People
This next segment is definitely not meant to anger anyone or to make us come across as ignorant American's and definitely not to be anti-Semitic. I'm purely stating what we learned, what we were told by our Jewish guides as well as our observations.
Obviously Judaism is a religion, but being in Jerusalem showed that Judaism is so much more than just a religion. It is they're way of life; it is their society; their government; and how they run their city. For instance, Saturday is their Shabbat, the Jewish Sabbath. It starts Friday afternoon until Saturday sundown. They don't just go to their synagogue Saturday morning and carry on with their day. No. Anything Jewish, like shops, buses, government offices, etc close and shuts down from sunset Friday to sunset Saturday. I get the shops and government offices closing, but the buses? As you read on toward the end of or travels you will see how this small fact comes to be a pain in our ass. When I asked about the buses shutting down, I was told they are government run. I began to question other things that had to be government ran that would be shut down. Such as the airport. It can't shut down every Saturday. That affects the entire world. (I googled that, and it doesn't shut down on Saturday!) Judaism is not just a religion it runs they're cities!
One thing that is really hard to plan for is where a hotel is located. It ended up the hotel I chose in Jerusalem was not in the best neighborhood. But what are you going to do? After we dropped our rental car off we took a taxi to our hotel. The best part was when the driver was too lazy to go around the block so he just drove backwards down a one way street. He's facing the correct way, he's just moving in the opposite direction of traffic.
First stop was the Mahane Yehuda market. One benefit of being there on Friday afternoon was seeing all the Jewish people hurrying to do their last minute shopping before everything closed. It was barely controlled madness of people choosing from stacks of challah bread, piles of candy, nuts, spices, pastries, baklava, you name it.
Wailing Wall and the Temple Mount
There were a few things at the Western Wall that surprised us, but then once we thought about it, we were not so surprised. Such as there was security to get into the plaza. Then there was the large, round metal bomb disposal thing (for lack of better words). We actually saw those a few places throughout the Old City and on the Temple Mount. There was also security watching over the whole place.
At the Western Wall and the Temple Mount was the best place to see the segregation between the Jews and the Muslims. No Muslims were seen in the Western Wall Plaza and I'll talk about the access the Jews have to the Temple Mount in a moment.
Then what came across as a finale for us onlookers (we were not allowed to video or take photos during any of this), a group of about 100 soldiers all wearing different colored berets (and, yes with their guns) entered the already crowded area and immediately started dancing and singing! They didn't stop and pray, they just kept dancing and singing and jumping around. It made the other groups stop what they were doing and watch them. It was very moving and a fantastic spectacle to watch. I think the best part of this was off to the side was an old man who had been praying by himself and when this large group started dancing and singing, he stayed where he was but danced and sang along with them. He eventually joined them. I didn't want to leave and I desperately wanted to take a video to share so everyone could understand how emotionally charged the whole scene was!
Temple Mount
Regarding the entrance to the Temple of the Mount, everyone besides the Muslims get one entry which is through a security gate, up a weird, narrow, angled walkway. The Muslims have about 4-6 different entrances they can use from within the Old City. So we get to the entry and there is maybe 7-10 people in front of us, including a couple of young Jewish guys, so we walked right on in. At the top of the walkway were quite a few security people sitting around along with their stacked riot shields. Now when I say security people, I don't mean, they have a single hand gun in their belt and they're wearing tennis shoes and it's all casual and stuff. No, these people look like they are outfitted for war!
Inside, honestly, I was more enthralled with the Asians taking selfies of themselves with their cameras attached to long poles. They actually were not looking at what was behind them. They were more concerned about getting a good photo of themselves in front of the Dome of the Rock. Then there was the group from Philippines that seemed to be going for the world record of how many "jumping" photos they could take!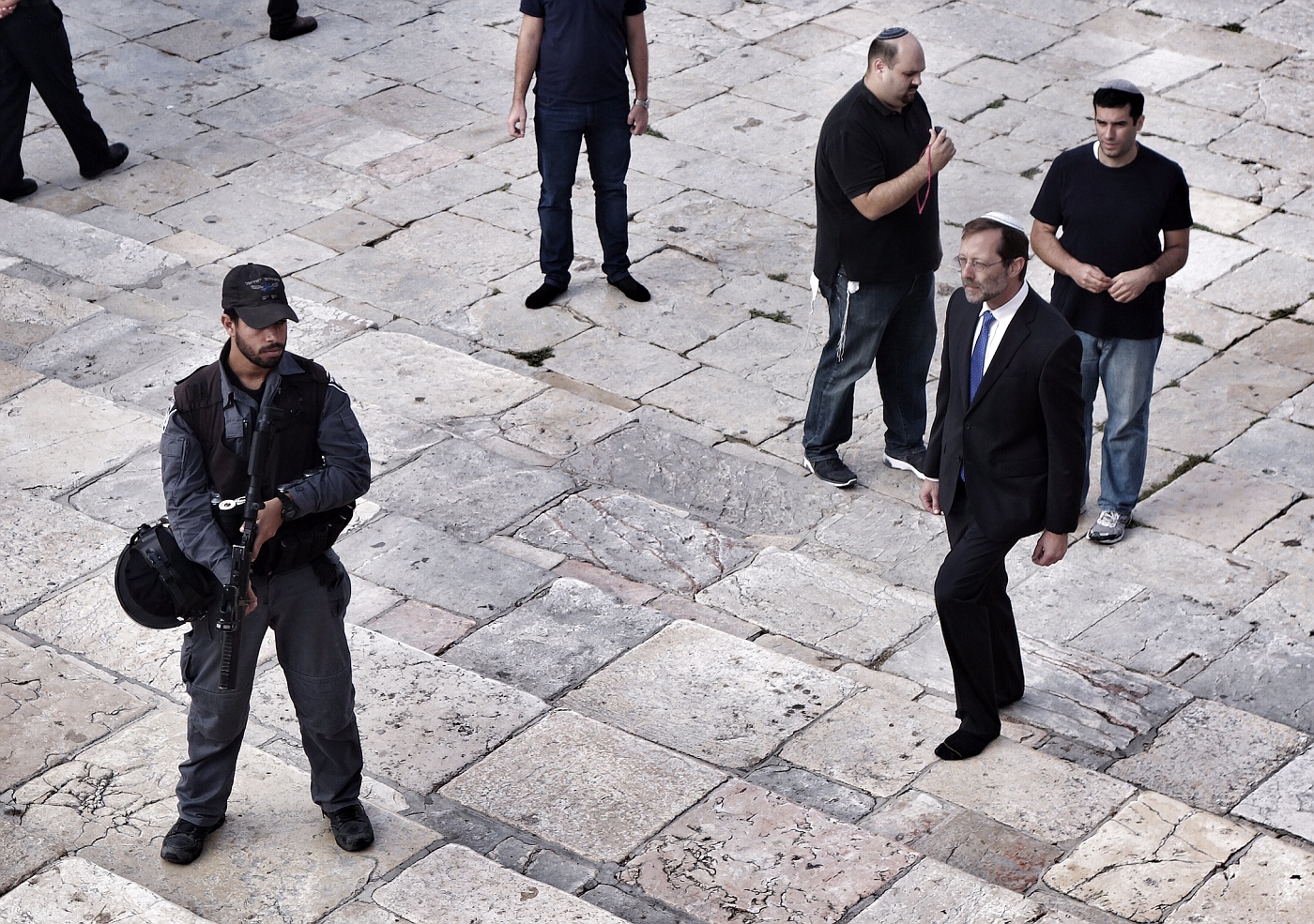 When we were inside the plaza (one bonus about the past war and tourism being down 80%, is that the place was empty) we ran across the group of Jewish guys we had seen at the security gate. They were being escorted by armed security men. That kind of caught me by surprise! They were minding their own business, not praying or anything, just walking around. Then about 20 minutes later came an older Jewish gentlemen in a very nice tailored black suit. It looked like he had two other guys with him, but he was completely surrounded by security guys. Once again, I don't mean security like a mall cop with a hand gun in his belt. No they all had full on assault rifles.
As he walked around, there were four Muslim women in their burkas, at first chanting loudly at him. "Allah is God! Praise Allah!" Then as black suit man kept walking around and more Muslims gathered around, the women started
screaming these chants at him!
Over and over again, just screaming! Black suit man ignored them, but his security detail did not. His lead guy was on edge and had his gun raised and ready. It was incredibly emotionally charged and because of the hatred coming from the women to this guy, I couldn't help but to start crying thinking about how it would be to live with this hatred directed at you so blatantly day after day!
We hired a private guide for the rest of the day who showed things we could easily find on our own (such as the 12 Stations of the Cross) but he also showed us things we would have never found such as ancient hidden water cisterns that were below the city. He also took us to the largest and oldest Jewish cemetery which is over 3000 years old and holds approximately 150,000 graves. The Jewish faith believe this is where the resurrection will happen and the Jews will pay anything to be buried here because they believe the people buried here will ascend to heaven first. Our guide was also Jewish and he was the one who told us about how the ultra orthodox Jewish people don't pay taxes. He wasn't too happy about that fact especially since he was never asked if that was ok.
Bethlehem, Palestine, Dead Sea and Masada
The point I'm trying to make is Palestine was not nearly as "foreign" as I anticipated. On the surface it was just a society of Muslims which Troy and I have come across time and time again in our travels so that was nothing new. In fact, the Palestinians, on whole, were the most friendly people we met on this trip. But like I said that was on the surface. What is beneath that is a whole different story.
I previously booked or hotel in Bethlehem knowing it was in Palestine. I wanted to spend some our money there and help support the area with our tourist dollars. What I didn't understand before arriving is that West Bank is divided up into areas called Area A, B and C. Area A is under full control of the Palestinian Authority and consists primarily of urban Palestinian areas. Area B is under Palestinian civil control and shared Palestinian and Israeli security control and includes the vast majority of the Palestinian rural areas. Area C is under full Israeli control. Palestinian agencies are responsible for education and healthcare. Bethlehem is in Area A, and my first thought was "That wasn't the smartest thing to do. This is probably a volatile area of Palestine." But I was wrong, this was one of the safest places to be because since it is under full Palestinian control, Jews are not allowed in so there is no conflict. When I mean Jews are not allowed in, I'm not kidding. I had booked a private all day tour of the West bank, Dead Sea and Masada. When I got the confirmation email with details it said the driver would pick us up at our hotel in Bethlehem, drive back to Jerusalem to get our guide (30 minutes away) then we would continue on our tour. I thought that seems kind of silly and a waste of time. Ended up our guide was Jewish and our driver was Palestinian with a Jordanian passport so if the driver tried to bring the guide into Bethlehem, across the checkpoint, they would both be arrested.
A few other things I learned from this family and a very generous Palestinian woman who gave us a ride, is that they have Palestinian passports but no nationality, they are stateless. Palestinians have varying degrees of limited rights: 1.5 million are second-class citizens, and four million more are not citizens at all. Once again, this is something that was very hard to grasp.
Talking to the locals we really found out what the separation wall means to them and how it affects their life. Once again this was one of those things you can't grasp listening to the news. We all think, "It's over there on the other side of the country. It doesn't matter. It doesn't affect us. Separation wall, what is that?" One guy at a restaurant said he wants to go to the beach and visit his family on the coast but he can't. He just can't. He is physically kept from going because of the wall.
When we had our (Jewish) guide in the West Bank, driving through a Jerusalem neighborhood and he is talking about the West Bank and the people and he is giving us a history lesson. He then points out that the street we are currently driving on connected Jerusalem to areas in the West Bank and used to be bustling with shops and tons of people out and the economy was great until…the wall. All of a sudden the 20' separation wall is right in front of us blocking the road. As you can imagine the road now has closed shops, there is one run down gas station, there are a few military vehicles and the only people there are us taking photos of the wall. The Palestinians can't go anywhere. If they leave they have to exit through Jordan and since they have a Palestinian passport, getting a visa to another country is not an easy thing. It really hit home about how free a country we live in and what we take for granted.
If you look at a map and look at where the Gaza Strip is, the people there are literally caged in. They are surrounded by the sea on one side (with no seaport access) and then the wall on 3 other sides. They also have no airport. Think about it for a minute. It is as if you are on an island with no way to get off it. There are 1.8 million people in an area that is 41km long and 12km wide. I'm not going to get into a discussion about how Gaza is ran by Hamas and they are terrorists and they get what they deserve, blah blah blah. Seriously? Hamas is a handful of the citizens. 1.8 million people don't deserve to be caged in like this.
But I will move on….
When we left Bethlehem, our hotel guy was able to give us a ride to the checkpoint (which is the wall) so we could catch a bus on the other side to start making our way to Jordan. It was sad. Here is this 55 year old single man, as gentle as could be, driving a shitty car and you could tell that it hurt his dignity that he had to stop at a point, drop us off and physically was not allowed to go any further. Whereas we were permitted to continue on, and he wasn't allowed this same simple opportunity that we take advantage of everyday! Troy and I both actually get choked up every time I think about this.
I'm going to talk about one more thing before I move onto more pleasant things about our trip:
Illegal Israeli settlements...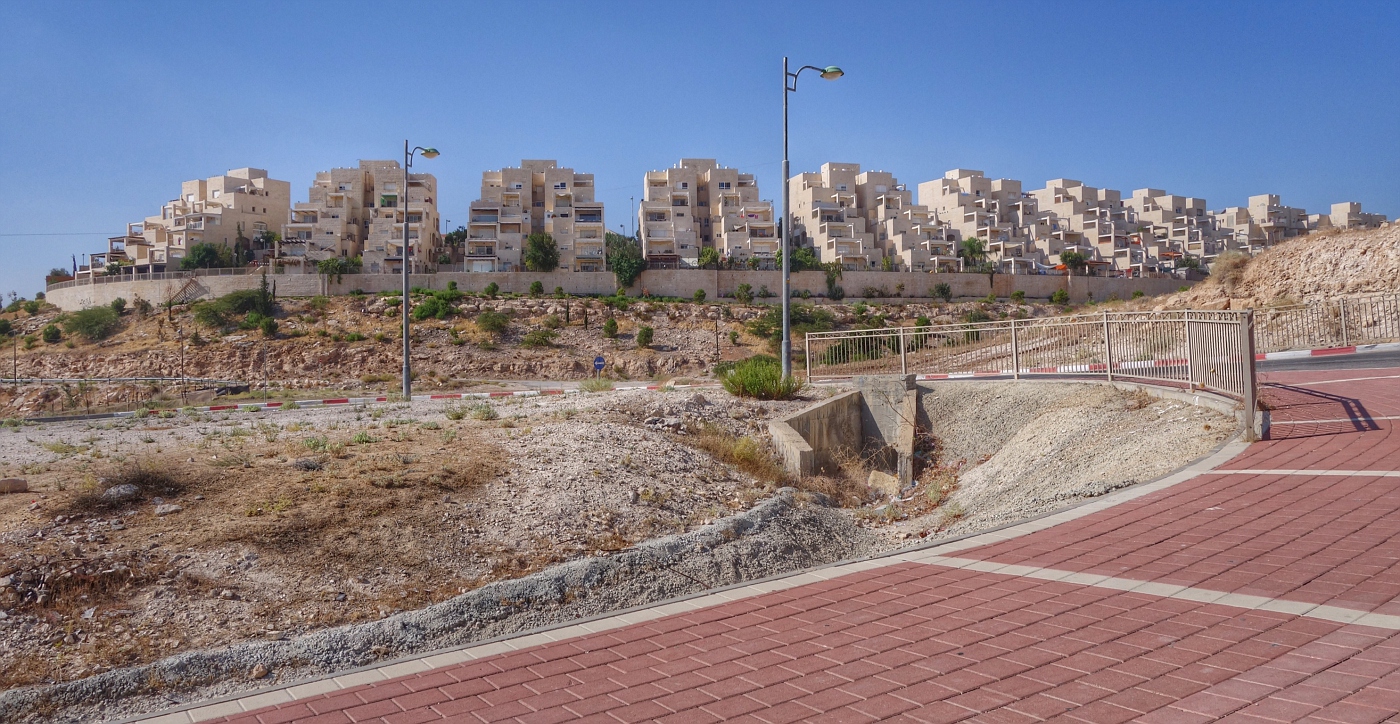 Israeli "Settlement"
Like I said before, once we started planning this trip I really started paying attention to the news and what was going on in Israel. One thing I kept hearing about over and over was Israeli settlements. The image that came to mind was camps, something temporary, substantial shacks, something like that. An actual Israeli settlement is far from what I imagined. A settlement is made up of several blocks of 4-6 story white, clean apartment buildings. They have libraries, tennis courts, shops, trees, landscape, you name it! They are permanent and there to stay. Israeli's are encouraged to live here. According to the 4th Geneva Convention these are illegal because they are being built on Palestinian land. You look at this gorgeous settlement with the white walls and green landscape and then you look over at a Palestinian village and its' night and day. The village is dingy, worn down, there are no trees or white pretty walls. The settlement is taking all the Palestinian water rights. I'm sure someone will read this and argue with me but until you see it, I don't think someone has the right to argue with me. But I will tell you, our Jewish guide was the one who told us all this information. Not a Palestinian. He was definitely left wing, but it was a Jew who told us this and expressed his disdain for what was happening to the Palestinian people.
One last thing. The Dead Sea has several beaches for people to go to. Some are public but the private ones are ran and owned by Israel. If you look at a map Mineral Beach is inside the West Bank boundary. It's near the edge but it is clearly inside the West Bank which would be Palestinian territory. But as you drive south on the highway, the checkpoint to cross out of the West Bank is located just north of Mineral Beach to give the impression that Mineral Beach is actually in Israel territory. What this means is that Mineral Beach is an illegal Israeli settlement.
Ok, on we go to the actual trip…
We did walk around a bit but Troy pointed out that Palestinians probably don't really like Americans because of the support Israel gets so we decided to cut our walks short. We did come across a funeral procession. It was proceeded by a guy holding the lid to the coffin and as the hearse rolled by we could see in the windows and right into the coffin and see the very old man who had recently passed.
I need to make a quick comment about Americans on vacation! We didn't come across many on this trip but the few that we did just proves how obsessed we are over football. We're at Masada which is this amazing historic site built on top of an enormous plateau way back in 37 BCE by King Herod. Anyways, we're there listening to the history of this place when we come across a group of Americans that were from Kansas. Troy tells them we are originally from Colorado (he hates to tell people we are from Texas - although Austin is okay) and this guy proceeds to say, "Oh yeah, your Broncos beat my Chiefs last week!" Seriously??? Are we really on top of this plateau in the middle of Israel talking about football? Then we're in Petra but this time it was a girl from Canada that was obsessed with the Seahawks and she was talking about how well the Houston Texans were doing! Ugh!!
Petra!
Now we are onto the last part of our journey, Petra, but first we have to get to Jordan. There are three ways to do this. There is a crossing in the North part of Israel that was out of our way, there is one central that is conveniently located but is the only crossing Palestinians are allowed to use because it is located in the West Bank, or there is the South crossing close to Egypt and is one of the easiest. To get there we leave Bethlehem and this is our route: Taxi; separation wall checkpoint; bus; walk; tram; bus to Jordan crossing; walk; then taxi.
Our crossing into Jordan was a joke in itself!
Through my research I read that we could have the bus driver drop us at a stop that was closest to the crossing. So that is what we do. My impression was the stop would be "at the crossing". No, we had to walk about 15 minutes to get there. So there we are dragging our suitcases down this road, no sidewalk, only a narrow shoulder and there is no one around. We must have looked quite stupid but the plus side it was 112 degrees out!! We make it to the crossing and there is no one there except for 4 young Jordanian boys crossing back into their country. We do the Israeli exit stuff (pay our exit tax, then at the 2nd window she stamps our passport), then we cross under a sign that says welcome to Jordan, a guy scans a receipt we have and we thought we are done! Nope! We walk through a deliciously air conditioned duty free shop and start walking. Once again there is no one out, no lines, no people! We walk by a window and a guy jumps out "Hey, you're going the wrong way, you need to walk that way!" Ok. We continue walking in the right direction. We walk by another window and another guy jumps out "Hey, you need to stop here!" Ok. So he does his thing then says go to next window. We do and there is no one there. Troy is knocking on the window and no one is there. A guy finally shows up out of nowhere and he does his thing with our passports. We keep walking. Still another guy jumps out "Hey, come back here, I need to see your passport!" This happened at every checkpoint. They didn't know we were coming so we caught them napping. Like I said there were no lines, no one out to direct us, we just kept walking. We finally made it through after 4 or 5 of these stops. It was pretty ridiculous but entertaining!
I had read about a taxi mafia guy that is waiting for people like us to go to Petra and how he charges an excessive rate and doesn't negotiate so we are ready with a story that we need to be taken to a hotel in the nearby town and from there we will find a taxi to get us to Petra. This last part we don't share with him. But right off because there are no tourists, he tells us a very fair rate to Petra and we thought "Ok, well, that was easy!" I was glad we didn't have to deal with him because he was scary! Like "bad man" scary! So off to Petra we go. At a very slow speed. We have a fairly old guy driving us, he has a nice car but he's driving so slow, windows down, no AC on. Best part again is that it is still 112 degrees out!
Petra was amazing!
The Treasury is the most famous photo of Petra but it is not the biggest monument. It is just the most well preserved because of the direction it faces and because of the canyon it is situated in. What most people don't know about the Treasury and a majority of the other monuments is that they are tombs. The treasury got its name because after it was rediscovered, bandits (for lack of a better word) thought there was treasure in the jar at the top of the monument. This is actually an urn symbolizing the building is a tomb. There are over 3000 tombs at Petra. They can be anything as small as a square hole carved into the building, all the way up to a massive cathedral type monument.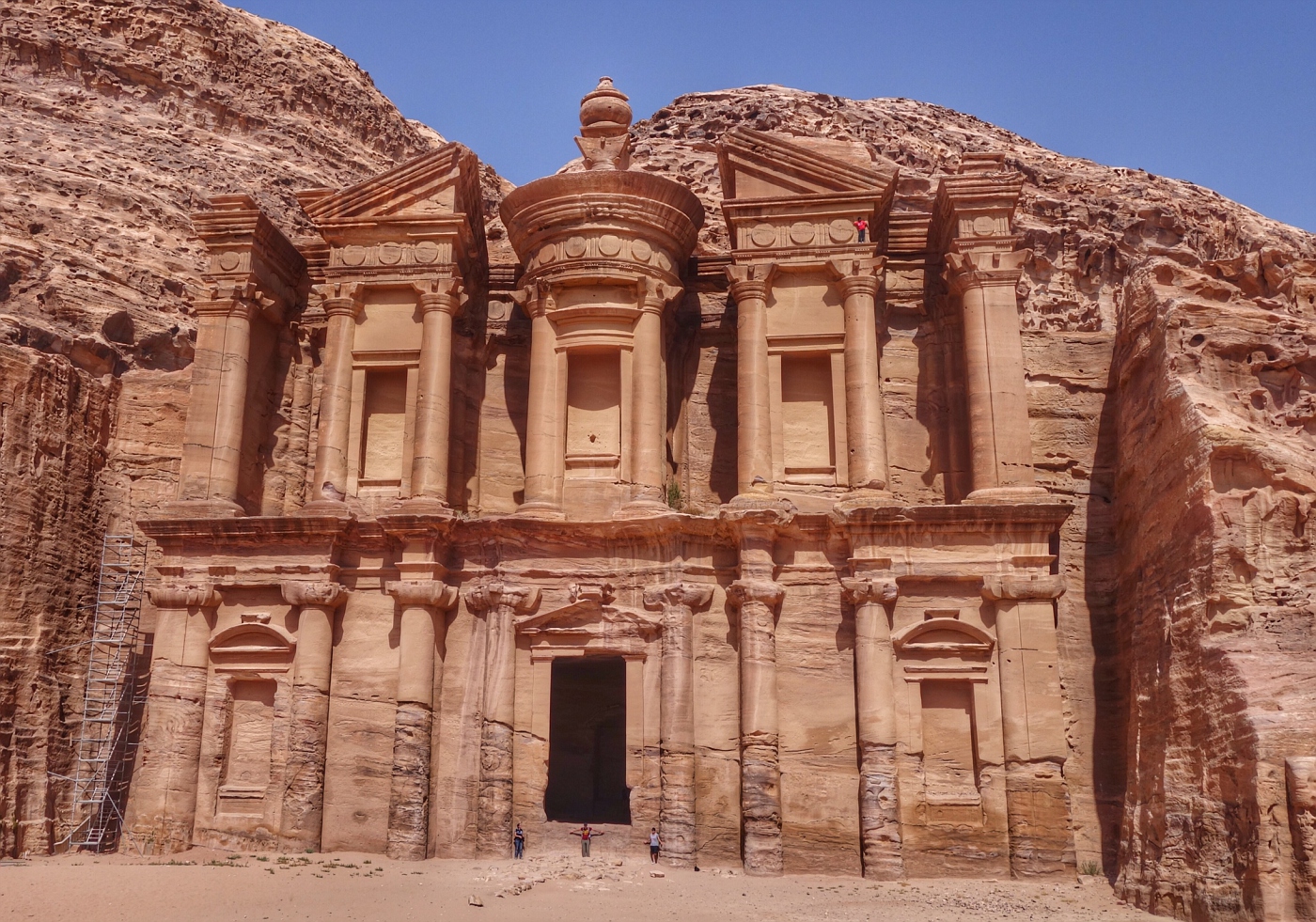 Near the top, almost to the right you can see the little boy in the red shirt
My favorite part was the Monastery which is at the top of an 800 step hike up into a mountain side. We had a guide this day (which by the way was great because we got a "special" tour which was much longer and went places many tourists don't go) and he was "having problems with his knees" so he took a donkey to the top and said he would meet us there. When we met him at the top, he pointed to the left and said, "See that rock formation? Looks like a gorilla, doesn't it?" And I laugh and say, "Yes, it does, I see his eyebrows, and jutting chin!" He then casually points me to the right and I say, "Holy shit!" The monastery is enormous and caught me by surprise! I could tell he did the gorilla thing to catch me off guard. It worked! The Monastery is one of those things that you stand there in awe of it! It is so massive. Once again, no tourists, so we were able to get a lot of photos with no one in it. That is, outside of a little boy who climbed to the top of the Monastery. Our guide had hired his donkey from this 12 year old boy and when we got to the monument the little boy knows a back way up the cliff side to get to the façade of the Monastery. It's insane! In two of our photos, if you look close in the top right corner you see a little red splotch which is his shirt!
We then went to another area called mini Petra. These were smaller tombs but had a significant role in the politics of Jordan. In 1973, the government took away the wheat subsidies so the locals protested and burned tires inside these small tombs which blackened the walls and ceilings of this UNESCO sight. UNESCO found out and was extremely pissed at Jordan and threatened to take back the UNESCO title. So the government gave in and reinstated the wheat subsidies. Unfortunately it was too late for some of these tombs that were ruined by the burning tires.
Back to Israel
Ok, Petra is done now we need to get back to Tel Aviv to catch a flight which was not nearly as easy and relaxing as we liked it to be. Let's just say we almost got stranded!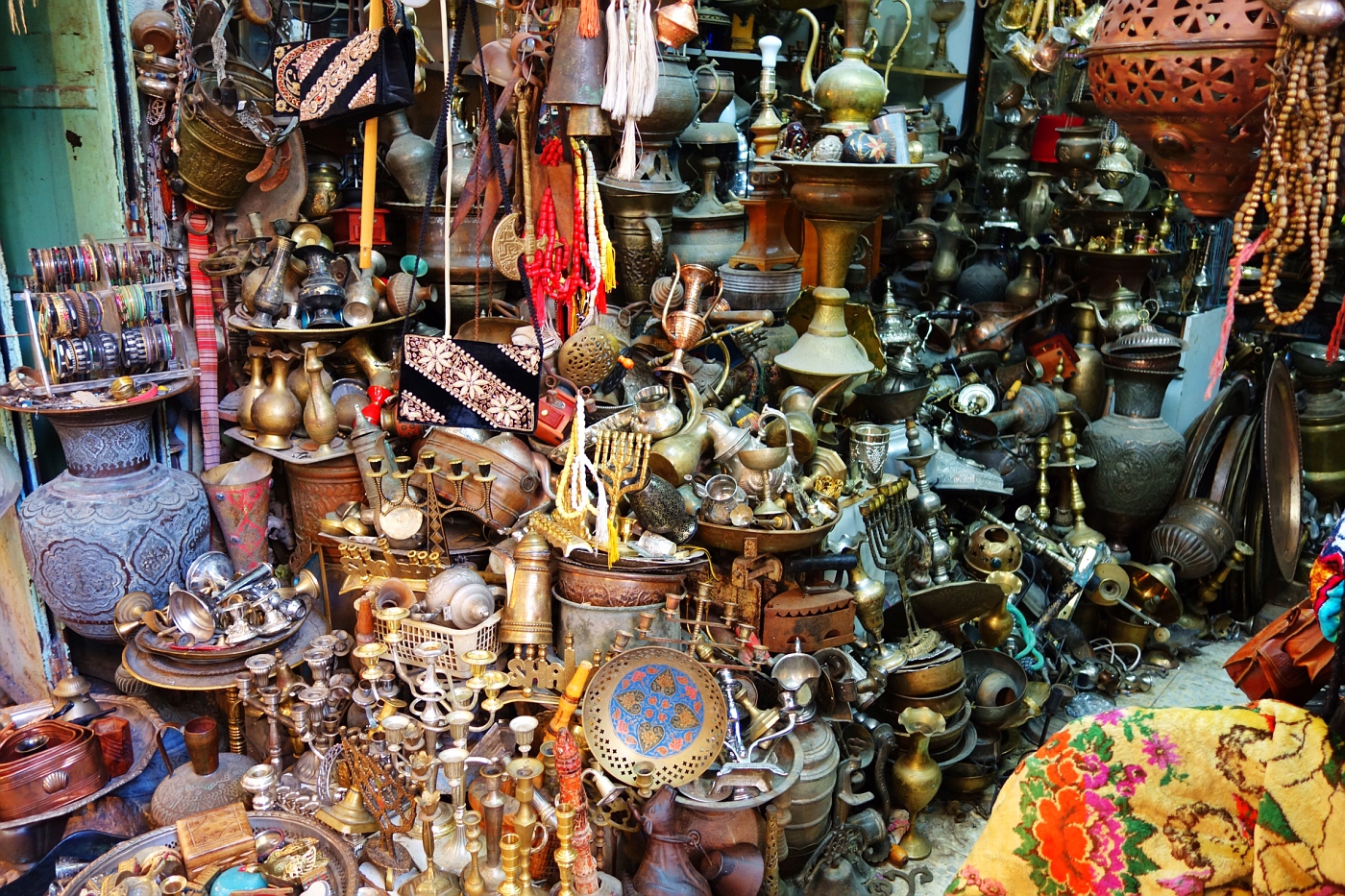 Shop in Old City, Jerusalem
I had a bus ticket for us to get back which was the same route we took to get there. Which would involve a 1.5 hour taxi ride south to the same crossing, then a 5 hour bus ride back north to Tel Aviv. Our taxi driver that originally took us to Petra talked us out of that! He said, "No, go to the King Hussein bridge crossing. 30 minutes! I promise you!" The King Hussein bridge crossing is the same crossing I mentioned before that is the only crossing the Palestinians are allowed to use and everything I read said don't use it! It's busy, too many people, long lines, chaos! During our taxi ride to Petra we had an extensive conversation about this. He said he would pick us up at 7am, it's a 3 hour drive, 30 minute crossing then we can get a bus to Jerusalem that is a 40 minute drive, then we can easily make our way to Tel Aviv. He sounded very, very confident! He says people do it all the time! Troy and I discuss it, we didn't love the idea of a 5 hour bus ride back so we agreed to do it.
During our tour of Petra with our guide, we told him about this and he said don't do it. He said we are not allowed to cross over that way. The frustrating thing was both guys were 100% confident in what they were saying to us, but one of them had to be wrong. The question was which one was wrong! Our Petra guide called a friend who knew a guy who worked at the border to verify if we could cross over or not. He found out we could, so we decided to stay with the plan with our taxi driver. By the way, Troy has a cold at this point.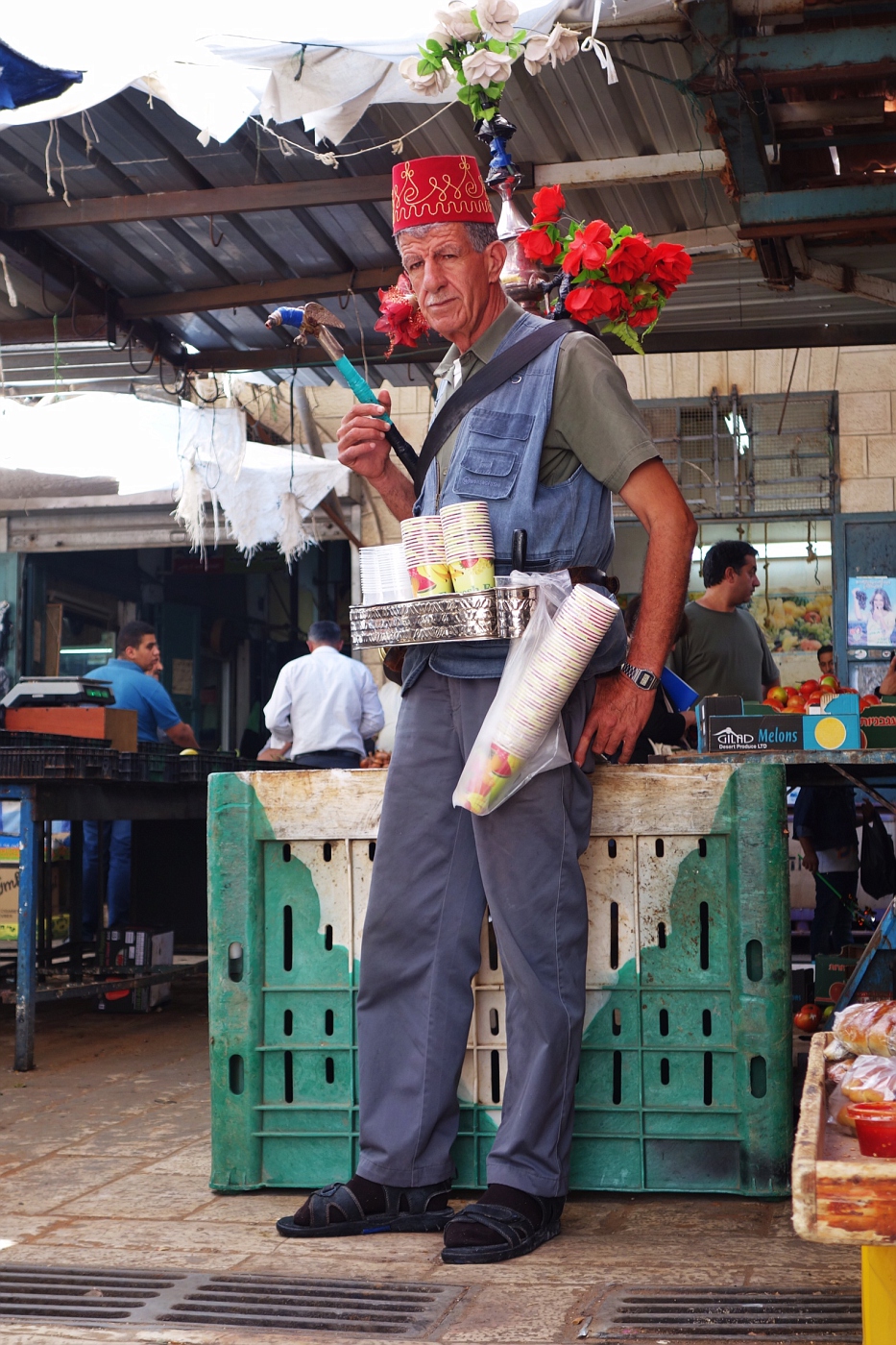 Juice seller in Bethlehem
Saturday 7am, picked up no problem, get to the drop off point no problem. Troy asks me if he should tip the guy, and I said no. I'm not confident that all we need to pay is an exit tax. At this point we have almost no cash! We have a $100 USD which pretty much does us no good because who is going to break a $100 bill!
So, what we thought was the beginning of a 30 minute border crossing, turned into 3 hours. The taxi guy was right. It took 30 minutes…6 – 30 minute increments! We get dropped off; do our passport thing; then are told to wait while some security guy holds onto our passport. I hate that! I'm not concerned that he'll lose my passport (Ok, maybe a little), but we have several little pieces of paper in there that we have received from passport control since our arrival and I don't want to lose those.
One thing we have learned in our travels, if something is placed in your passport, do not lose it until you are home and in your own country! At this point we have somewhat gathered that we are waiting for a bus to the border. Yes, a bus ride across the actual border. We are told to board, but then we start watching what everyone else is doing. We are completely out of our element. We have no idea what is going on, what to do, and nobody speaks English! We start questioning everything we are seeing. "They got on the bus but got off, why? Where are they going? Why are those people not getting on the bus!" Troy then notices people have tickets in their hands. He jumps out, asks and finds out we need tickets for the bus. Good thing I told Troy to not tip our taxi guy. He barely had enough money to pay for us and our bags (by the way, the bags cost more than us).
We finally found a couple behind us who spoke English so they helped calm our fears. He was Palestinian so he had done this crossing before. No, they didn't have their passports either, yes, they had a bus ticket, yes, we were all going to the same place! Ok, finally we get our passports back and we are on our way to the border but along the way we get stopped at least 3 times for security checks. By this time it has been 1.5 hours since we got dropped off.
It really made no sense. So we get our passports stamped and then go inside to another line to go through security. We make it through that, then get in another line to get a new visa to enter Israel. We finish with that to get in another line to have the luggage tag scanned to allow us into an area to collect our bag. Luckily we both knew to keep our copy. We get our bags and start to breathe a sigh of relief thinking that we are done, happy to be done with that mess!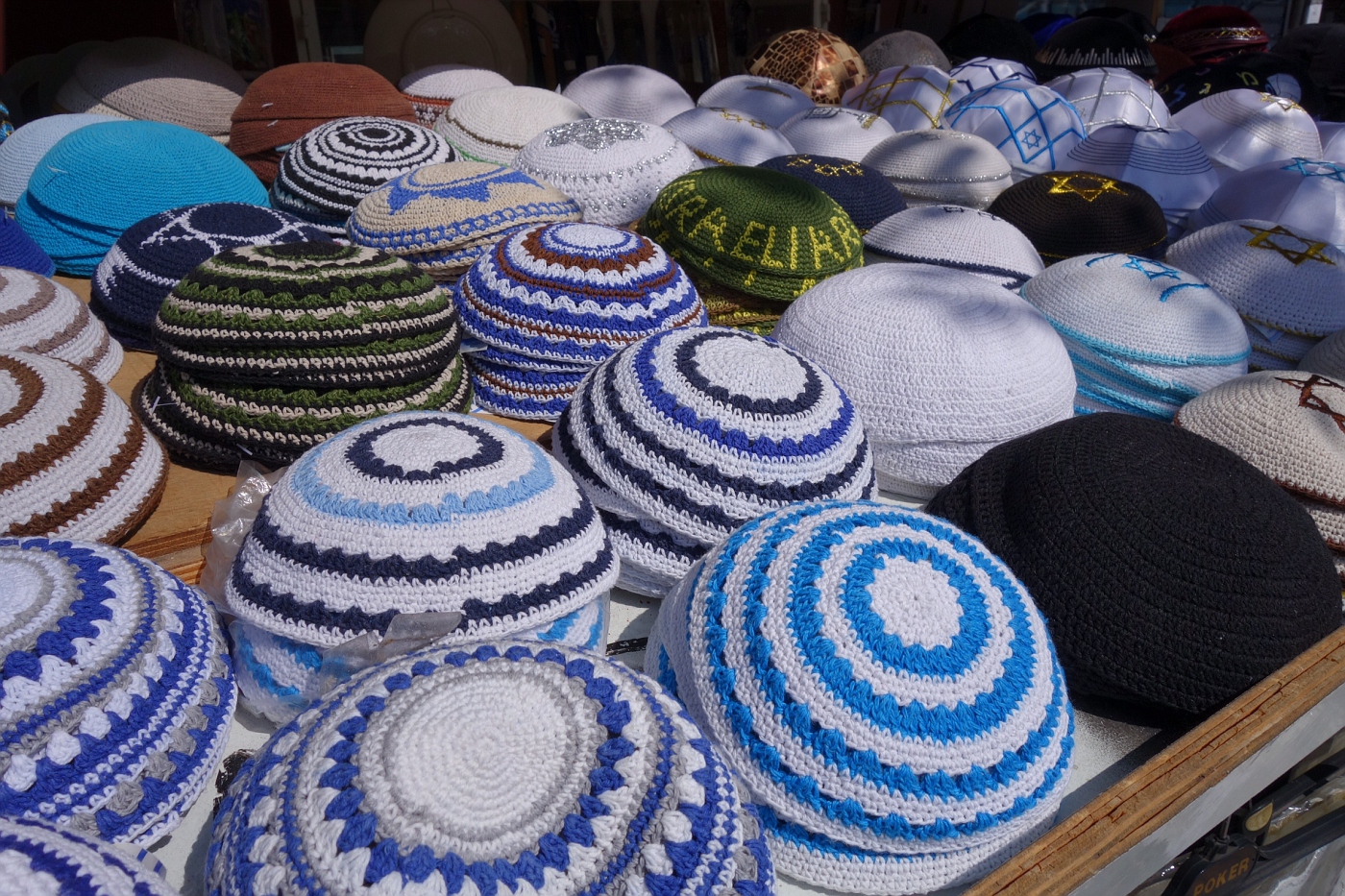 Different Yamikas
We have 2 options at this point to get to Jerusalem. A private taxi or a service taxi (mini-bus). We buy a service taxi ticket (with the little cash we have left) but there is no schedule. The bus leaves when it is full. Luckily it is a small passenger bus so it doesn't take that long to fill. At this point we have 5 JDR left (Jordan money and now we are in Israel). Which is equivalent to $7.50. I actually have a very small breakdown thinking we have a lot of money in our checking and savings account and we can't get to it. We have 5JDR to our name and that is all that matters! With that money, Troy goes to a food window and says "What will this buy me?" He got a falafel sandwich and 2 bottle waters!
By the time our bus leaves, it has been 3 hours since our taxi driver dropped us off. In the meantime, we had asked a Palestinian women about where the bus drops off in Jerusalem and that we need to get to Tel Aviv. This is where the damn Shabbat came to kick us in the ass! There are no buses that run on Shabbat in Jerusalem!!!! Are you kidding me? We just went through that ridiculous border crossing only to get stuck in Jerusalem. Well this kind young lady calls her brother and he agrees to pick us up in Jerusalem (which is where she lives) and take us to our hotel in Tel Aviv for a fraction of what it would have cost to take a taxi from Jerusalem to Tel Aviv! She saved the day!
To end our trip in Tel Aviv, our hotel room is the smallest ever, Troy has a cold, a bird shits on my head, and we barely have enough USD to buy a few Russian meat pies and a beer. This was one of the most amazing trips that we have taken and are better off for it! We learned new lessons regarding traveling. This was one of the more difficult trips we have taken with regards to information of how to get around and the border crossings. Our next trip will be a breeze compared to this. But we also grew as people in regards to what we learned peoples' lives are like in that part of the world and the daily struggle they have to deal with. We live on the other side of the world and it is very easy to think "Out of sight, out of mind!" But I think about our kind hotel owner in Bethlehem and how he struggles every day to retain his dignity but instead is treated like a 2nd class citizen!
3 Comments:
Great blog, Shelley! You and Troy really had some adventures. By the way, have you seen any of the wall between Texas and Mexico? It's also very depressing. And by the way, the Jewish religious headcovering is a yarmulke, or kippah. Thanks for sharing your story!
By

Va Healer, at 11:28 PM
I LOVED this blog so much that I had to read it twice to take it all in!
wow! good job Shelly… we can't wait to hear more stories and see pix…see ya in a few weeks

H&S