---
Thursday, February 15, 2007
So sad to say goodbye.
Well…our time in Hong Kong has come to an end. It has been a tremendous experience and we leave here with a lifetime of memories. There is so much about this place we won't forget but on the other hand there are a lot of things that we can't wait to forget such as men (and sometimes women) with 5" long hairs growing out of their moles.
Without further ado here are the top ten things we will and won't miss.
Things we will miss:
1. Public transportation
2. Hiking with friends
3. Shelly having clothes made
4. Friends from around the world
5. Dim Sum
6. Lan Kwai Fong on Saturday night
7. Warm weather in December
8. Chinese babies
9. Drinking and not having to worry about who is driving
10. A fabulous view of Hong Kong from our flat
Things we won't miss:
Pollution
Cobras and pythons on hikes
People pushing and shoving and line cutting - total lack of personal space
Freezing movie theaters

Sweating like a mother f***er in the gym and on hikes
Expensive Mexican food
Our washing machine and hanging clothes outside
Paying $10 for a gallon of milk
Disgusting things hanging up in the wet market
Troy's Blackberry

It's incredible the things we have become very tolerant of: cockroaches in restaurants; rats in the wet market where we buy our produce; hair in our food... Don't get me wrong, Hong Kong is a clean city for its population density but these things are a part of everyday life that you can't get away from. You just grin and bear it.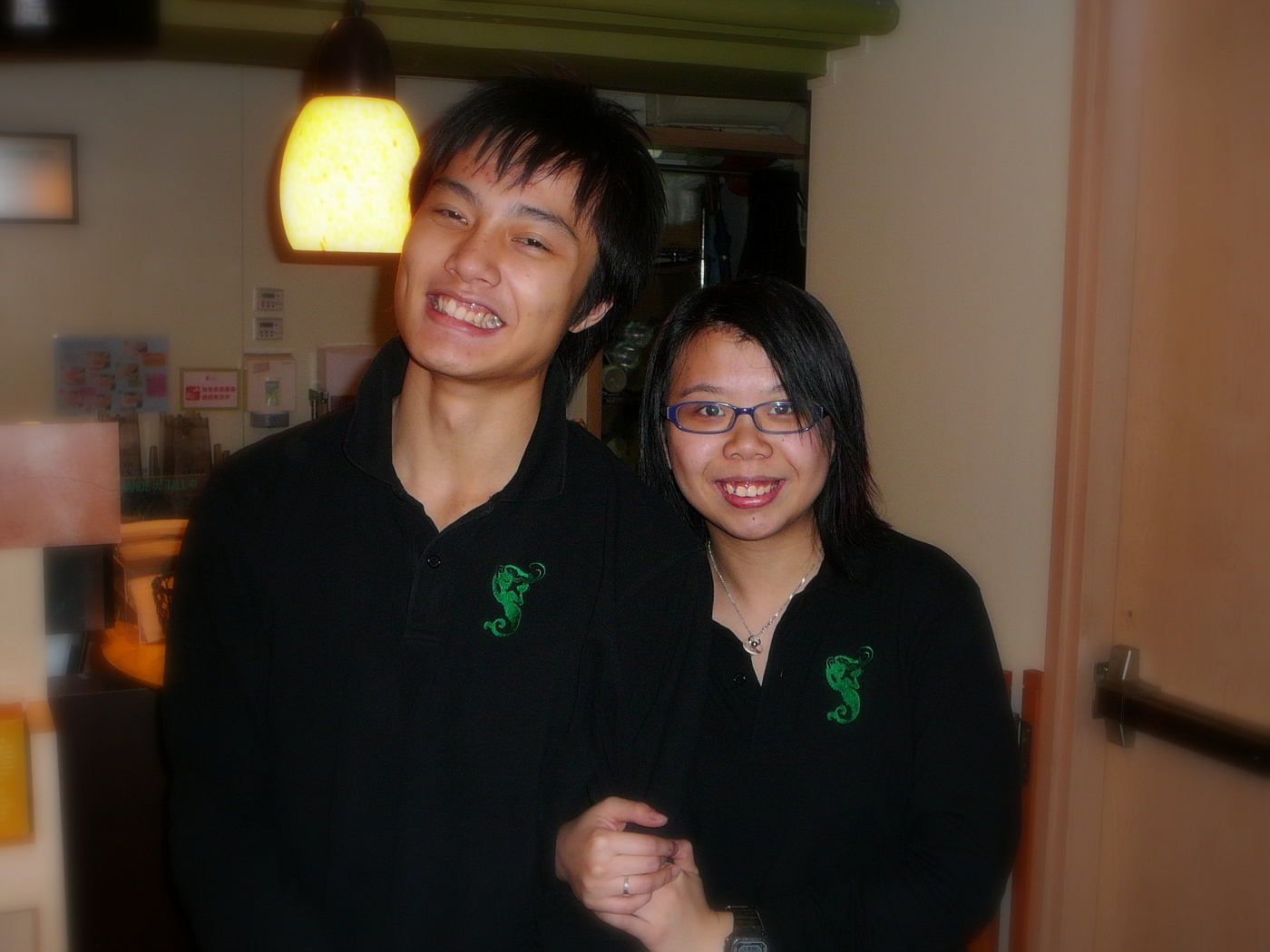 I personally have become very tolerant of the Starbucks girl, Sue, who has an enormous crush on Troy. She will find any excuse to talk to him. "Troy, what is this picture in the newspaper? Ohhhh, you so smart and funny and clever! Will you be here tomorrow? Oh, you so goo' looking!" I only poke fun at this because she has a great sense of humor and even though she would be embarassed she would find this very funny. She is an incredibly sweet girl who we find quite interesting to talk to whenever we are at Starbucks.
We have enormously loved meeting people from all over the world. We have learned so much from our friends from different countries. One of the things we have learned from them is different slang and use of language. I love the look of absolute grossness on my British friends face when I talk about how much I miss biscuits and gravy. To them, a biscuit is a cookie. So yeah, cookies and gravy is gross. I've also picked up a few slang words myself such as wanker which has a similar definition as asshole depending who you ask. I have been trying to clean up my potty mouth by using that word more often. Now, if I can only stop calling them f**king wankers!
We have also found a perverse pleasure in shoving past people. "F**king wanker, get out of the way!" Whether it is getting off the subway and people just won't get out of your way or stepping out of the elevator with both hands full of groceries. Young, old – doesn't matter, we push them out of the way all the same. I know some of you are thinking what horrible people we are for that. But you come and live in HK for 2 years, before you know it, you'll be shoving and pushing just like us.
Speaking of people from around the world , Troy and I have made some amazing friends while in Hong Kong. I personally never thought I would hang out with 50 year olds on a weekly basis and who would become such close friends of mine. Ok, so some are only 48, but they are still really, really old! (To those "old" HK friends of mine who I just offended – you know I had to get one last jab at you!)
A few weeks before we left Hong Kong, our very good friend, Judi organized a late afternoon hike. It was followed by dinner at a Thai restaurant in a little beach village for us and all our friends. It was to be our farewell gathering and drinkfest. The husbands grumbled because no golf was involved but they reluctantly went along because they knew there would be tons of alcohol at the end. The hike was beautiful, weather was perfect, food was fabulous, drinks were endlessly flowing and best of all we had a incredible time with everyone. To top the evening off, there is nothing better then all of us riding home in the public mini bus and singing at the top of our lungs to a familiar song on the radio and the bus driver and Chinese passengers singing and clapping along with us! Sometimes us foreigners can be quite entertaining to the locals when we want to be.
Troy and I are extremely sad to go but with all great things, there must be an ending. We will never forget HK and everything we have learned here. Most of all we will never forget our friends we have come to love. Each and every person has taught us an immense amount. Both of us will leave Hong Kong better people just by knowing these very special people.
Troy here...We will truly miss all of you we have come to know in Hong Kong and all over the world and hope that you will stay in touch. I will also probably be re-starting up my
What's That? Who Cares!
blog [subscribe
here
] and that at times can be interesting and/or entertaining.
As for what happens after Hong Kong, we will be heading to India for 2 weeks then onto Colorado. We will only be in the US for 6 weeks because we still have more adventures to come, and it does not include new jobs. Our blog is not done yet so stay tuned...