---
Friday, December 29, 2006
Christmas in Hanoi, Vietnam
Click for
more photos of Hanoi and Halong Bay
.
Since we are staying in HK another 2 months (which Troy is sooo excited about – yeah, right) we decided to go somewhere for Christmas. In addition, all of our friends have gone back home to their respective countries for the holidays so we had no one to celebrate Christmas with. Plus the idea of having Peking duck and pork dumplings with a roomful of loud Chinese for our Christmas dinner just didn't sound appealing this year. So we headed to Hanoi, Vietnam. Hanoi is definitely not what comes to mind when you think of a "Christmas destination" but it was loads of fun none the less.
Hanoi was a crazy little city. It has been a while since we have been to a place where things were constantly amazing us and catching us off guard. Every few minutes it was like "Holy cow, Troy, did you see that??? That's just nuts!" Such things include how the Vietnamese know how to utilize the space on their tiny little motorcycles.
Hanoi had prime examples of how they do that. There was the motorcycle driver delivering five, 3 foot tall porcelain vases strapped haphazardly to his bike; 3 rather large pigs lashed to the back of another motorcycle; or an entire calf roped to the luggage rack with his head and legs flopping around every time the motorcycle rode over bumps (hence the "holy cow" remark). Did we manage to get pictures of any of these? Of course not. They came and went before we could get our cameras out.
You could find almost anything you wanted in Hanoi, you just had to know which street to go to. There was shoe street, vodka street, zipper street, motorcycle part street, gullible tourist souvenir street, beer street, etc. etc. There were also no stop signs or street lights, so crossing a street was a challenge. Not only were you dodging the cars and motorcycles, but as you walked you had to make sure you didn't run into the food vendors with their long wooden poles balanced on their shoulders. One of those things could poke your eye out.
One of the places we managed to stop and see was the Hanoi Hilton. In response to Troy's question "Was this ever a Hilton hotel?" The answer is no. This was the infamous Hoa Lo prison during the Vietnam War that was renamed the Hanoi Hilton by the American prisoners.
This was also where Senator John McCain was kept. The prison which is now a museum even had on display McCain's flight gear, parachute, boots and helmet that he wore when he was captured. There were many sad things about this place. They had a room that was filled with items that were shown to the outside world at the time of the war to explain that the prisoners were being treated well. Whether it was clean uniforms, new shoes or a pamphlet that had various pictures of the prisoners showing what they did inside. "Oh look, it's Christmas time again. What fun we are having." "We're learning how to cook together" "Yeah, let's all play a game of volleyball". When what was actually happening on the inside was a million times different.
About a 3 hour drive east of Hanoi is an area called Halong Bay. This place was absolutely stunning. It reminded us a lot of
Yangshuo, China
with the karst mountains but Halong Bay had the mountains protruding from the sea as opposed to land. I had booked us on a boat for 3 days/2 nights and we had no idea what we were in for. Are there going to have actual cabins to sleep in or will it be a big slumber party with strangers? Will there be toilets or is it "find a hole and squat"? Is this going to be one of those boats that is also used to transport pigs and cows to other places? To much relief it all turned out good. Cabins were comfy, bathrooms clean and the food wasn't half bad.
The boat was called
Jewell of the Bay
and was one of dozens of boats that took tourists around Halong Bay. The boat slept about 18 people and we lucked out and got a triple cabin (well, Troy cheated and saw the number of the key in the "random key draw") so we had lots of room to spread out instead of being cramped into a small 10x10 room. Only one crew member spoke English so everything else involved a lot of pointing and hand gestures. Even though the Vietnamese really don't celebrate Christmas, they did manage to have a very pathetic Christmas tree on the boat as well as a CD that had Jingle Bells in Vietnamese. The song was fun at first but then got real old after about the second hour of continuous play. We did luck out with some fun fellow passengers. A few Canadians, Germans, Indians and even a French guy who was actually very cool! Christmas Eve the crew had a "gala" planned for the guests. It wasn't much but we all appreciated the thought and effort behind being served platters of fruit, cake, candies, some very, very bad purple champagne (yes, purple champagne) and even receiving a gift of a small wooden Vietnamese doll. This miniature spread was then followed by dancing with the crew and other passengers to more Vietnamese music. Or rather I danced and Troy laughed - he is always laughing at me.
Halong Bay was very relaxing. It was a little colder then we expected so neither of us wanted to swim. We didn't do much other then kayak to secluded lagoons you can only get to through caves, see how the local floating villages and their residents live, bargain with the floating market lady to try to get cheap beers and explore some nearby caves that were gigantic.
We spent our last night (Christmas day) in Hanoi. It was very difficult to get into the Christmas spirit because outside of some very sparse Christmas decorations, some Santa earmuffs and the occasional Willy Nelson Christmas carol you would have never guessed it was Christmas.
Labels: vacation
---
Monday, December 18, 2006
Kuala Lumpur, Malaysia
Click for More pictures of Kuala Lumpur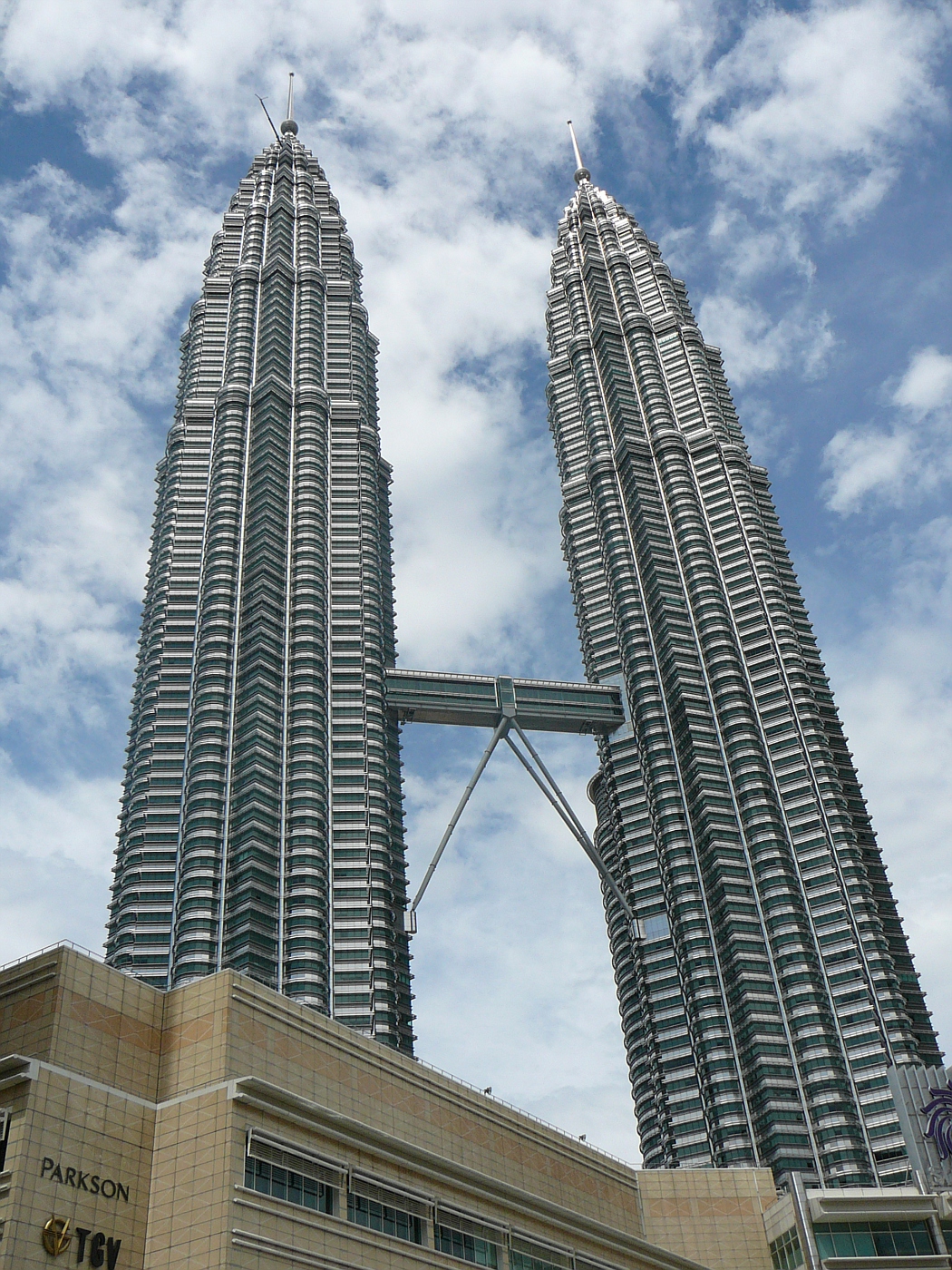 Troy and I have managed to tackle a lot of Asian cities, but one that we had yet to visit was Kuala Lumpur. The most recognizable landmark that defines KL is the Petronas Towers. These are the world's tallest twin towers and second tallest building behind Taiwan's Taipei 101 tower. We didn't know what to expect of KL. We certainly didn't have our hopes up. We expected it to have a pinch of cultural diversification, a heaping spoonful of Muslims and a huge dollop of boring right out of a big jar of Singapore. We were very wrong. We actually liked it so much that we decided we could live there if it wasn't for such bad traffic and it being bloody hot all year long. (Did I just say "bloody hot"? Good grief, I've been hanging out with my British friends too much.)
KL only has 2 million people. Yes, only 2 million. I know that sounds like a lot, but compared to HK, it's not. I was amazed at how quickly you could escape the city to get to the incredibly gorgeous jungle. The other thing Troy and I liked about KL is that since it has space to expand, there were a lot of outdoor eating and entertaining areas. HK has like two. Seriously, HK is so packed for space that it is very difficult to find outdoor restaurants. Now if you are a shopaholic KL is the place to be. Troy and I...not so much the shopaholics.
Although while hanging out in the mall I did find myself fascinated by the Muslim woman at Starbucks who was wearing the traditional black robe and a full face veil (or niqab) - btw, in KL most Muslim women only where a hijab covering their hair and neck. I wanted to know how she drank her coffee without taking off her veil in public. After subtly staring at her (is there such a thing?) I found she doesn't take it off. I would sure like to watch her eat BBQ ribs though. Oh wait, that's pork - that's a no no.
Being in KL around the holidays was a little strange. Outside of the fact that it was 90 degrees in mid December, it was astonishing that a city that is predominately Muslim actually participates in Christmas activities. I don't know if it was the surprise of seeing manger scenes in public areas, Middle East sheiks standing in front of a Christmas tree, or the fake falling snow made out of soap (actually looked pretty real). I don't know who I felt sadder for: the Muslim city residents that have to tolerate this holiday or the poor bastard that has to continuously mop up the soap snow from the mall floor.
We did struggle to find things to do outside of shopping. One place we did get to visit was an elephant sanctuary. At the moment they have 11 elephants here. Some are working elephants that are used to help relocate elephants that cause problems on farmers' land, while the young ones are being rehabilitated to hopefully return to the wild.
They had a baby elephant that was a month old. They only had her a week and she was very skinny because her mother abandoned her. Luckily the sanctuary found her before poachers did. She was so tiny but made an enormous amount of noise. Troy was able to get close enough to her in her cage where she proceeded to suck his thumb. One activity visitors could participate in was bathing the elephants. Sounds straight forward enough, right? What actually happened wasn't even close to giving an elephant a bath. We stood on a wooden platform next to a river while the elephant that is in the water walked close enough for you to climb on him. He then walked into the river a few yards and dumped you! It was quite fun as long as you managed to not get stuck under the elephant as he went down.
We met two guys from Atlanta who were the definitive embarrassing Americans (we have come across some real winners "Scuse me! Do you speak American?") - they insisted on wearing red Santa hats for their "bath" with the elephant.
We also visited the Batu Caves which is the holiest Hindu site in Malaysia. Once a year over a million Hindus attend a festival here called Thaipusan. Hindus from all over the world make the pilgrimage here for the event. During the festival, Hindus follow a route to the caves while engaging in various acts of devotion. Some acts are as simple as carrying a pot of milk while others go to the extreme of piercing their skin, checks and tongues with skewers. Even though this would be an amazing festival to witness, I don't think I could handle being in the midst of a million very smelly Hindu Indians.
Link to Reference